contest
---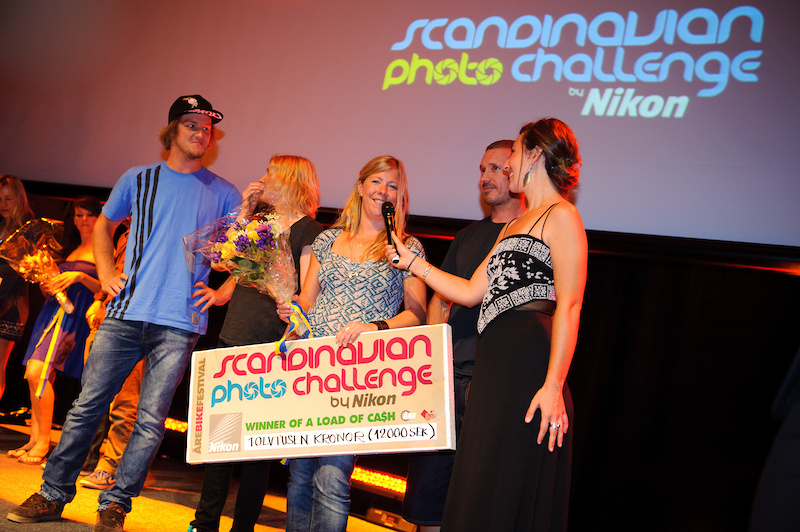 Five of the world's best mountain bike photographers gathered last week in Åre, Sweden, for the second edition of the Scandinavian Photo Challenge by Nikon. After three days of shooting in everything from pouring rain to scorching sunshine, followed by two days of editing, the results were shown in front of 700 spectators. The winner: Camilla Stoddart.
National Geographic is once again holding their annual Photo Contest, with the deadline for submissions coming up on November 30th. You can enter to win $10,000 and have your photo published in National Geographic magazine! Photos will be judged on creativity and photographic quality in three different catagories: People, Places and Nature.
Throughout the contest, National Geographic will be gathering and presenting galleries of submissions so that the public can rate them. For a good overview of some of the best submissions from the different catagories click here.
Nikon is doing the viral marketing thing by conducting a photo contest on Facebook using their "I Am Nikon" campaign. Facebook users can upload and enter a photo for a chance at winning several different prizes through a Nikon-created Facebook application. Winners will be chosen from the photos which receive the most Likes. First prize is a Nikon D5000 kit with 18-55mm VR lens.
You can support this site by voting for our official entry shown below (shot with D90).


The application period for the Nikon Photo Contest International 2010-2011 has now begun. Established in 1969, the Nikon Photo Contest International is one of the world's most prestigious international photographic contests. Applications will be accepted until Tuesday, November 30th, 2010.

Entries for the 2010-2011 contest will be accepted for two categories. The first category is a free subject category (A) and the second entitled "Energy" (B). Photos of any subject or theme are invited for the free subject category. Entries for the "Energy" category should be photos that capture the energy of sights and subjects that inspire, motivate or excite you or viewers. Photos covering a broad range of subject matter from throughout the world are expected for both categories.
A total of 53 awards and prizes will be given out, including the Grand Prize for the lucky winner:
The Nikon Photo Contest International has been held by Nikon Corporation since 1969 to provide an opportunity for photographers around the world to communicate and to enrich photographic culture for professionals and amateurs alike.

The application period for the Nikon Photo Contest International 2010-2011 is from Wednesday, September 1st till Tuesday, November 30th, 2010.
Recipients of a total of 53 awards and prizes will receive Nikon imaging products. In addition to their awards, 21 recipients of the Grand Prize, Emerging Talent Awards and Emerging Talent Awards runners up will be permitted to exhibit their entries in the contest Mini Gallery.